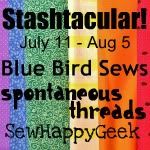 It's Tuesday and it's Jenna's day(s) for a chic hostess apron tutorial over at Sew Happy Geek. I will be back tomorrow with a something I'm calling, "Take me out, please" . So don't miss out….. I warned you there are multiple happenings going-on!
And while I have your attention, here is a photo of my completed pincushion from Kelly's tutorial yesterday.
Fabric from the "Habitat for my Habitat" (Jay McCarol Freespirit Habitat Fabric Challenge) provided by Front Range Modern Quilt Guild.
And nothing to do with sewing at all, but a bit of a miracle given where I live
Blueberries from my garden. Blueberry bushes acquired (by pleading and paying for postage) from the experimental agricultural lab at the University of Minnesota, busily developing blueberries that can survive dry cold winters and flourish in dry hot summers. I've had these bushes for about 5 years and this year was the first year I have more than a handful. I have 4 different low-bush varieties and they are a small miracle in my garden. No GMO's here, just good old stick-to-it-tiveness and lots of cross breading. The berries are so pretty and remind me of the ones that grew effortlessly all around where I grew up. (The birds around here have never had such a treat so I have to pick quickly).