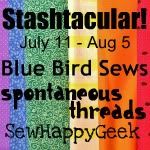 Today's Monday Stashtacular tutorial is featured over at
Blue Bird Sews.
Look what Kelly is up to, a super cute, quilted pin cushion- it's not a secret so go tell all your friends!!!! And don't forget to take some pictures and see what's up on…….
the
STASHTACULAR Flickr page
. Your friends are over there having a really having a Fancytastic time and I know you wouldn't want to miss out.