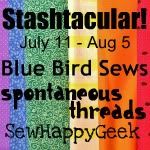 I have been looking forward to this for, 3 weeks!!! My give away day. A $25.00 gift certificate from
1choice4quilting
. First, my thanks to 1choice4quilting for generously donating to the STASHTACULAR give-aways. Go on over and give them some consumer love at the end of the STASHTACULAR.
OK, drum roll…….
The winner of one $25.00 gift certificate, from 1choice4quilting, chosen from among all the wonderful and creative comments this week is……….
CK
who said: "
This has been a *perfect* month for Stashtacular! We have had 1 day in July under 100 degrees, so I have no desire to pile all the kids into the hot car, walk across the hot parking lot, and listen to 3 hot and sweaty kids whine while I look at fabric. And since we have pretty much barricaded ourselves inside, I have gotten to use up quite a bit of my hoarded fabric. So thank you for the motivation, inspiration and
way to avoid perspiration! ;-)
"
Also, a winner from among the funniest comments I got (it may or may not have had anything to do with sewing or the STASHTACULAR), is
Allison

who said:
I could use another shopping bag. Will have to put that on the list.
About me...well I live in Boston (weather here has been nasty!) and I drive a scooter. On Saturday I got pulled over. Not the first time I ever got pulled over, but the first on my scooter and it was so embarrassing! Stupid me projected my speed and the distance wrong for a turn and cut off an undercover cop in a pickup. Oops. I really appreciated all of the gawkers in the cars and the pedestrians that stopped to watch the show. That made me feel better about the situation. NOT! At least I got off with a warning even if I lost a little of my dignity.
Thanks for the giveaway.
I noticed a real theme with the comments, nearly all had hot, hot weather happening in their neck of the woods, and many seized the opportunity to stay indoors and sew!! (Me too). I will send Allison a charm pack from my stash - Moda Awesome by Sandy Gervais.
So, lucky winners, you need to contact me to get me your information (address and preferred emails) so that we can get your gift certificate and charm pack prizes on their way to you. CK- you in particular because you are a no-reply blogger. Congratulations Ladies!!!