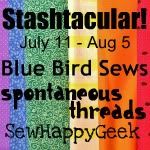 Week 3! Give yourselves a big old high-five!! I still can't believe all the great ideas flying around out there. It's really going to be hard picking a project from all the "mades" from all the tutorials and featuring that one lucky person on our blogs at the conclusion of this month long event. You guys are awesome. I'm inspired by all of you.
This week I get to host the give-away, on this Saturday, I will giveaway a $25.00 gift certificate from
1choice4quilting
, to one lucky winner. I have been waiting to give
anything
something away since the STASHTACULAR began. I guess there will be more stuff to give away at the conclusion of STASHTACULAR, it's the waiting that gets to me- but I have been patient and so now it's my time. (yay).
Week in brief (just since I can't wait)…….
Today: another great tutorial over at
Blue Bird Sews
. A re-usable shopping bag!
Tuesday: Jenna at
Sew Happy Geek
follows up with more awesome things to sew while busting your stash and she will treat us to some additional stash busting tutorials.
Wednesday: I will re-visit a much loved (by me that is) tutorial on a fun clothes pin keeper
Thursday: I get to further inspire you (I hope) into sewing a few more things for the laundry room with a mini tutorial and links to additional projects.
Friday: photo inspiration at
Blue Bird Sews
and
Spontaneous Threads
(that's me). Friday is also the very LAST day (USA) to mail in your scraps if you are participating in the scrap swap. (Details can be found over at the
STASHTACULAR Flickr page
, but you really must hurry).
Saturday: the give-away will be back
here
.
So, in order to be eligible for the giveaway in this, my week, you must leave me a comment on my blog on any day this week (Monday through Friday). You may let me know that you made Kelly's reusable shopping bag, or Jenna's tutorial but you must comment here. (It's the only way I can keep track). You may comment each day, but only once a day. You can comment on the STASHTACULAR, on the weather or tell me something about yourself so I can get to know you better. I'm thinking I might throw an additional something in to sweeten the pot for a comment that really makes me smile. At the end of the week (Saturday) I will pick a winner from all the comments and post that winner's name here on my blog on Saturday during the day. You will have to check back and see if it's you,( if you are a no-reply blogger), otherwise I will email you directly for your info. So, leave a comment and keep your fingers crossed!!!