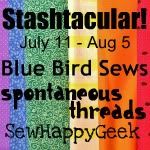 Looks can be deceiving! I really have made a dent in my stash, it's just so hard to tell because there was so much stash to begin with. It does feel good to be a whole 3 weeks (and counting) without buying any new fabric. I have mailed in my scrap swap packages to
Jenna
and
Kelly
(over 4 pounds to each of them- I probably shouldn't have said that, but I got on a roll and cleaned out my sewing area). I can't wait to see what's coming my way, although I HOPE both Jenna and Kelly exercise some restraint and send me far less in return. I mean who doesn't love getting an envelope with fabric in it???? I do, I do, I just want less, rather than more fabric, which only means some of you will get more than you sent. YAY!!!
In addition, while scrap searching, I cleaned and rearranged and emptied out 3 plastic storage boxes of fabric- yup, here is the proof
3 empty boxes and 2 envelopes of scraps- although I eventually upgraded to boxes as the collection grew and grew! Some of the additional scraps are around on the table if you look closely.
But hey, today, I'm really just hear to brag about others- taking something common place (the laundry) and elevating it to a new level. After this I might be inspired to keep up with the laundry or not- at least either way my laundry room will look nice!
1.
Fabric Boxes
, 2.
Fabric Boxes
, 3.
Fabric clothes hangers for girls
, 4.
Clothes hangers for baby boys
, 5.
laundry bag
, 6.
Violet's Laundry Bag
, 7.
Custom Laundry Bag
, 8.
Custom Laundry Bags
, 9.
Clothes pin keeper tutorial
, 10.
Monster Clothes Pin Bag - Blue, Diamonds, Green eyes
Give-away tomorrow, Give-away tomorrow! (Don't forget)