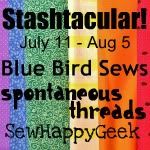 I cleared it with the boss, since it's OK to use your fabric stash, it's also OK to use a previously posted tutorial (also know as a "tutorial stash", although my cup doth not runneth over in this category). So, if you have seen and perchance made my clothes pin keeper tutorial, I hope you are using it and it is serving you well. You even have a bit of a leg up so go post a picture over on the
STASHTACULAR Flickr page
. If not, then hopefully you will be in for another way to use up some fabric from your stash.
Click here for the fancytastic tutorial
.
Don't forget to check in with
Jenna
and
Kelly
and see what Stashtacular things they've got going on. And come back and see me tomorrow for some other cool things you can make for your laundry room. You will be the envy of all your friends.