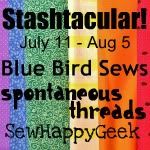 Get it??? "line" , clothes pins huh, huh……??? Hope so anyway.
Well, it's the end of week 3 and so many of you have done some really great things with your stash. If you haven't yet grabbed the STASHTACULAR button, it's still available, so go ahead and grab it and put it on your blog!
As many of you devotee's of SATSHTACULAR already know, I have posted some pictures of my stash on our Flickr page. If you haven't seen it, well, here goes
scraps
stash
So, go post pictures of you sewing room
mess
stash and see how you size up. remember, all that
STASHTACULAR Flickr
sharing is contagious.
My
secret wish
goal for today is convince you to add to your accessories for the laundry room. The perfect thing to "go" with your new clothes pin keeper. There are some great ideas out there starting with a few from the lady who had been hand crafting for quite some time, Ms. Martha Stewart. I was hoping to score an interview with Martha, but alas she's probably busy, making cheese from her heirloom sheep herd while simultaneously shearing the sheep, carding, spinning and knitting all that yummy yarn into her Christmas gifts for this year. So, next best thing was the July 2011 issue of her magazine featuring a few sewing projects (hers made from bandanas- and NO you cannot copy that idea UNLESS you have bandanas in your fabric stash). Oh, FYI, I have red bandana fabric (yes, yes, I do) in my stash, but I really wanted something with a bit more pizzaz for my projects, so here goes……
Martha's
Clothes Hanger Covers
.
"These are easy to make, so you can create multiples for a matching set"
. (That is sooooo Martha). OK Martha-we shall see now, won't we. (I have added additional comments to the sewing and construction where I think necessary).
Materials for this project:
Metal Hangers (who doesn't have these at home)
Fabric from your stash
Sewing machine, thread, imagination
Trace your hanger (omitting tracing the hook) directly onto the fabric (folded in half so you are cutting both pieces at the same time) you selected giving yourself a 1/4" seam allowance. Martha suggests 1/2" but you quilters out there might go for 1/4", it's up to you, but be consistent.
Cut out your fabric along the traced lines.
*** Now here is where one can exercise some creative license. Say you have loads of strips of fabric scraps, you may sew your strips together to make your fabric, or patchwork them together, or even applique or embroider a monogram, be creative……. (now back to the scheduled program).
At the top opening where the hook of the hanger will be, press to the wrong sides 1/4 inch.
Stitch in place. Repeat both sides.
With rights sides facing, and beginning at where the hook of the hanger will eventually be, sew around your fabric keeping with your chosen seam allowance.
Stop about 6" from the where you started, leaving the top opening open.
Clip your curves, without clipping through your stitching.
Turn right sides out and press.
Slide chosen hanger into opening and folding seam allowances under.
Hand stitch opening closed.
If you have yucky hangers from the dry-cleaners you might want to upgrade to some nicer ones, and these covers could even be made to cover the colorful plastic hangers that many people use these days. Regardless of your hanger choice, they look MUCH better covered. You can dress up the hook with some ribbon and glue, it's up to you.
Now, making one hanger is not in itself a stash busting tutorial, however, make a set for your closet and you will soon see a reduction in you fabric scraps and stash.
May I also suggest that you wash all the fabrics that you might use for this project in advance. You wouldn't want any color transfer onto your clothes. This is especially important if you are using batiks and colored linens or flannel.
Other laundry room accessories you might want to try:
Ironing board covers:
Marmadaisy
and
Jonag
Laundry bags:
Amy Butler's In Stitches
Hope all these yummy projects make your laundry room Fancytastic.
Up on Friday - inspirational photos over at
Blue Bird Sews
and right
here
. Friday is also the last day to post your scraps to either the US or Internation Swap collectors (otherwise known as
Jenna
- International swappers and
Kelly
- USA/Canadian swappers). And if that is not enough excitement for you, Saturday will be my very first
Stashtacular
giveaway. Announced right here.