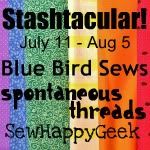 This is the last day to post photos over on the
STASHTACULAR Flickr page
, so you better finish up those tutorials and
dust off
get out your camera. Tomorrow we will be announcing the remainder of the winners, the clock is ticking. The giveaways will be announced on all three blogs (
Blue Bird Sews
,
Sew Happy Geek
and
here
) so there will be NO EXCUSE to miss out on who will be the lucky winners. Please be sure to hop on over to each blog and check things out.
My thanks to the 2 other talented ladies who conceived and brainstormed this month long
STASHTACULAR
. I was happy to be part of the fun, but a big hand goes to Kelly and Jenna. I mean, some of you will be receiving the items made from their tutorials, originals from Kelly and Jenna. I am throwing a few things into the pot as well, but I so would like to be in running for some lovely handmade items by those 2 talented ladies. I thought about creating an alias, however Jenna and Kelly know where I live and I think, they might catch on! If I may, I might suggest, that if you have not done so already, go follow their blogs, as they have great ideas and linky parties all year long. You wouldn't want to miss out! I know I don't.
Also, I cannot thank enough our thoughtful and generous sponsors who contributed the books and gift certificates and fabric to the STASHTACULAR.
Fat Quarter Shop
1choice4quilting
Puddleduck Fabrics
Now that you are officially off your diets you can go buy some stuff from these shops. I bet they have something that is just calling your name. Please thank them with your patronage.
Tomorrow we announce the last of the winners so don't forget ONE MORE DAY!!! Thank you for a fun month!