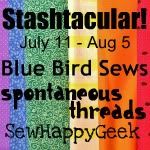 And the winners are (drum roll please):
Grand Prize of a Jelly roll from the Fat Quarter Shop and a quilt pattern from Puddleduck Fabrics
The STASHTACULAR final day jelly roll winner (also from Fat Quarter Shop)
The"made from" TUTORIALS (from all posted entries on the STASHTACULAR Flickr page) receiving a $25 gift certificate from 1choice4quilting
and other great PRIZES
are all announced by Jenna at Sew Happy Geek
because she's on GST in jolly ol' England and can beat the clock faster than we can back here in the states.
Winners please contact any of us so that we may get your information (address and emails) and get your prizes out to you. Remember you have to make sure we can contact you if you are a no-reply blogger. Commenting on any of the 3 blogs should suffice. We will email each other and pass the info along. Thanks to each of you for making this a fun month. Keep creating!! and PLEASE keep in touch.