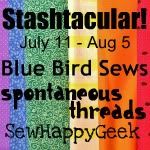 Sorry, it's just that I don't want you to miss out on all the fun and prizes, yes prizes (many) up for grabs in the STASHTACULAR. Think the
Fat Quarter Shop
,
1choice4quilting
,
Puddle Duck Fabrics
(I mean is that not the cutest name I mean who wouldn't want to win something from Puddle Duck Fabrics?). And the trifecta of "hostesses with the mostestes" will also be giving away hand made items from their tutorials. Uh huh!!! So go see the
STASHTACULAR Flickr group
and join in the fun (the rules are there for the fabric swap and the giveaways). The Flickr group is open so you can join NOW. During the STASHTACULAR make sure you post some comments over at the STASHTACULAR page at
Sew Happy Geek
, and
Blue Bird Sew
s and of course, right here so that we can include YOU in the weekly give aways. Get your cameras dusted off and the batteries charged so you can post photos of your stash and your scraps and your unbelievable tutorial makes, because one lucky sewist will be featured at the end of the STASHTACULAR on all 3 of our blogs. All the fun starts for REAL on July 11th, but I recommend you visiting your stash in advance, so you can start getting a envelope big enough to put those scraps in you want to swap. (I confess, I'm up to two envelopes, and I'm seriously considering one of those post office flat rate boxes). I think this says something about how much fabric I have……. well, see for yourself, because during the STASHTACULAR I'm posting pictures!!!! And you get to comment!!! Perhaps someone with strong organizational skills will take pity on me.