Well, I'm finally home from being here and there.
Guggenheim, Bilbao, Spain
Chateau Pau, Pau, France
For any of you that follow le Tour de France, this requires NO other explanation
Facade, Sangre de Familia, Barcelona, Spain
When I got home I did this……..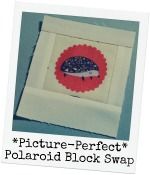 …… and this pillow for the
Modern Quilted Pillow Swap
- which I couldn't post until now, because it's a voting swap and we have to be anonymous. We were supposed to give the pillow a name, which in my jet lagged state I forgot. So, after the fact, I think it should be called "Fractured Jet-Lag".
MQPS: front: Gusseted square pillow (about 15")
Free form piecing with orange accents
Close-up of quilting(pebble and straight line with a pale blue thread)
The back, orange zipper closure
I have my block to get in the mail for the
Always Learning Bee
- my month is August. We're doing something along these lines……
Improv curved piecing
More on my block- Keep posted!!!